YOUR BOOK A BESTSELLER IN 90 DAYS
Over the last couple of years I have helped dozens of authors to land bestsellers on Amazon. With the Amazon bestseller service i offer a unique service, that allows you to become a bestselling author while you sleep. As I have limited spaces and also want to ensure high quality I offer the service on application for selected authors only.
FIND OUT HOW IT WORKS
My Amazon bestseller service is a unique offering, in which I do all the necessary steps for landing a bestseller on Amazon in mutual agreement with my clients for them.
WHAT THE AMAZON BESTSELLER SERVICE INCLUDES
Every author accepted receives an individual Amazon Bestseller Plan, that outlines in detail the steps that I will take in order to make the book a bestseller. Only after mutual agreement, I start executing the plan.
My authors get full access to the Amazon Bestseller Program as well, that includes all course materials with more than 35 video modules, 100 pages coursebook and dozens of exercises.
3) FULL EXECUTION OF YOUR PLAN BY ME
After we have agreed on the "Amazon Bestseller Plan", me and my team do all the necessary steps to get you on the bestseller list. The process takes normally between 1-3 months and includes steps, such as Amazon SEO and the use Amazon's promotional programs and external promotional services.
Once your books hits the bestseller lists, I also take screenshots that you can use as your proof for marketing purposes on your website and on other promotional materials. After successful completion I invite every author for a celebration on Skype or Phone.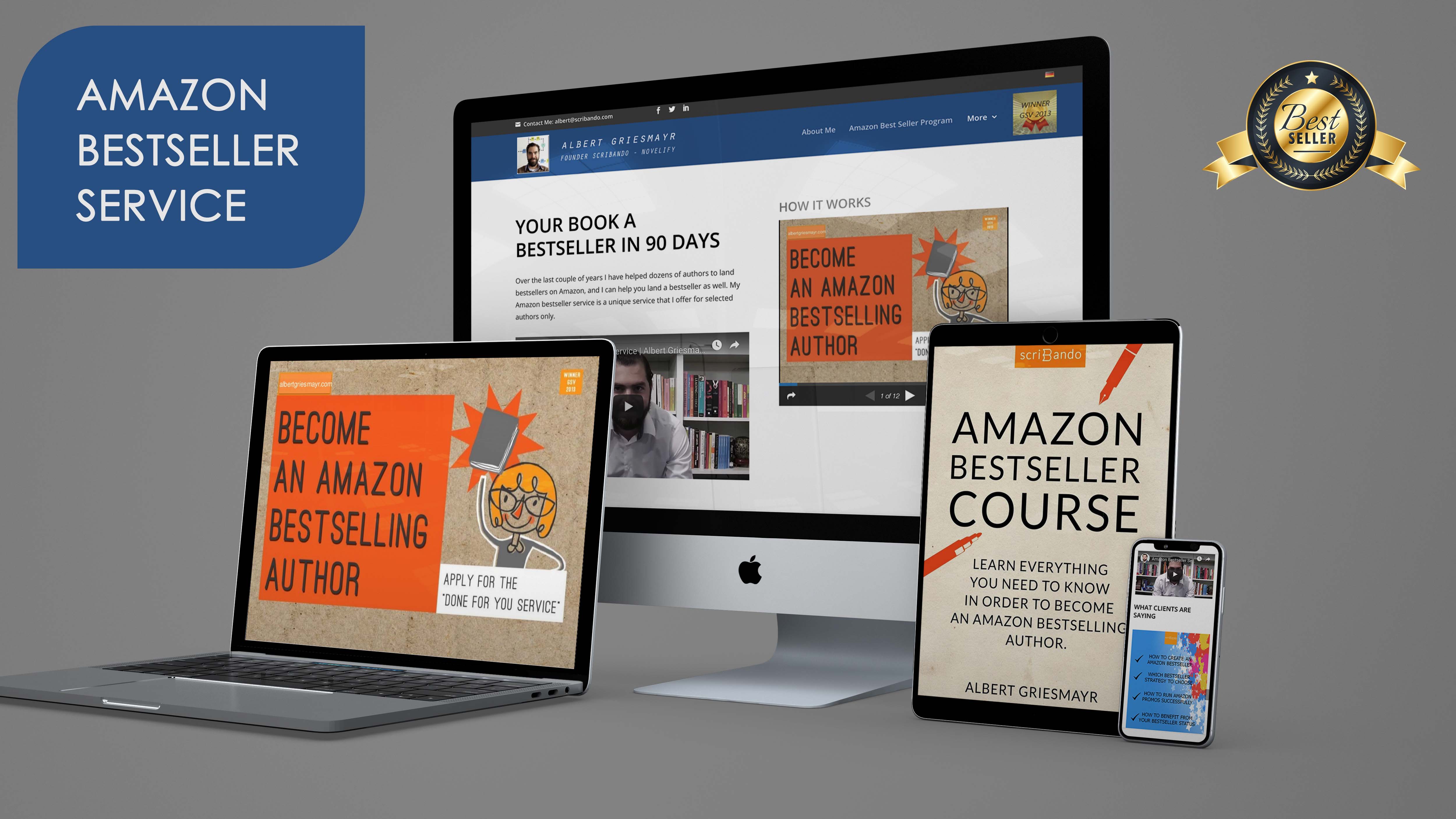 APPLY FOR THE AMAZON BESTSELLER SERVICE
Please send me a short message that includes a quick introduction of you as an author and most importantly a link to the book you want to become a bestseller. Once we are in touch, I also provide you with more information on the costs, which are largely success based only. In general I get back to you within 48 hours. Thank you.
READ WHAT AUTHORS I WORKED WITH ARE SAYING
"Albert helped us on our quest onto Amazon Bestseller Lists."
B.C. Schiller, Amazon Bestselling Authors, Austria/Germany
"Albert is a great guy and had a huge impact on my author success."
Yves Patak, Award Winning Author, Switzerland
"Again, a zillion thanks Albert. Your obvious expertise at $XX an hour is a steal. I'm in for as many hours as I can get."
Julia Butler, Bestselling Author, The Last Encore
"The program is really teaching me a lot about the reality of what it will take to become an Amazon Bestselling Author."
Lisa Devaney, Founder of Hai Media Group