This tactic is all about creating enticing book intros and offers that can be included in a book's first couple of pages. Not only do these present the book favorably, but they also drive traffic by linking to bonus content available on external webpages.
Features like "amazon look inside," "peek inside," or "reading samples" for download are a staple of most major online book retailers, often available for both ebooks and print books.
In fact, it's a feature that readers have come to expect, and they use it frequently. It's natural for people to want to preview the content they're thinking of purchasing.
Optimizing and improving this content is a great tactic, and it can often be done easily by just working on a couple of pages and uploading a new version.
Examples of Success
Example: Barnes & Noble—Look Inside / Reading Sample Feature
Take a look at Barnes & Noble's reading sample feature. It's highly used, so make sure your first 10 pages are enticing and, ideally, communicate value.
Thumbnail (January 8, 2020)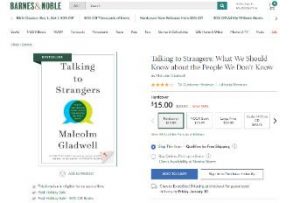 Example: Malcolm Gladwell—Talking to Strangers
Open the reading sample to see how the publisher is using the preview to advertise his book giveaways, sneak peeks, and other benefits by visiting his website.
Thumbnail (January 8, 2020)
Example: Nick Stephenson—Reader Magnets
Nick Stephenson's Reader Magnets is another good example of using Amazon's "Look Inside" feature to show readers bonus content and drive traffic to a webpage.
Thumbnail (January 31, 2019):
Application
Below you'll find some low-hanging fruit, easy ways to work on your first couple of pages and your reading samples in order to optimize them (for higher conversion rates with book buyers) and drive traffic to your websites (for building email lists, selling further book titles and companion books, or presenting upsells).
Here are simple tips for optimizing:
Copyright information and disclaimers: Reduce and/or move to the end of the book.
Table of Contents: Design it neatly and attractively.
Bonus content feature: Add a visual that catches the reader's attention, and include a big-font link to your webpage.
Foreword / Note from the Author: Make it stand out. This section should still be promoting your book by listing benefits, or if it's a fiction book, by drawing readers into your story.
Testimonials: Add them at the beginning to increase credibility.
If you're driving traffic to your webpage, you'll need to have enticing bonus content. Regardless of your specific niche, that content should add value.
It could be a worksheet that complements the book, a market-specific report or analysis, a training video, or a free booklet or audiobook. Many authors also give away free ebooks of previous or upcoming releases.
Resources
Book Sales Explosion : The 25 Best Tactics For Skyrocketing Your Book Sales Today
"This article is based on insights from the book "Book Sales Explosion". Get your copy on Amazon and find the insights for selling more books and creating a successful author career."

Albert Griesmayr
Founder & CEO of the book publishing startup Scribando & Novelify.
Previously Albert was Head of Digital at Dorotheum and consults companies and authors in digital strategy, digital marketing and book promotion.