What do the fields of mechanical engineering, military or commercial espionage, e-commerce, and software engineering have in common with book publishing?
You have no clue?
Gotcha! I totally understand. Hopefully I've got your attention, because I'm about to tell you. Secret #8 is worth gold to everyone who applies this secret to their book publishing businesses.
What these fields have in common is that they all benefit from the application of reverse engineering. Reverse engineering is the process of developing detailed design information from an existing part or product and an understanding of how it works.[1]
Reverse engineering
Reverse engineering is about finding something that works, analyzing and understanding it and, in a consequent step (technically distinct from reverse engineering)[1], using the knowledge gained for improving and modeling your own processes.
And this is exactly what many successful authors and publishers have done for years, in order to be commercially successful and to beat their competition. I recommend you to do the same. And you should do that by starting to "follow the money" as a first step.
So how do you start with "following the money"?
The quickest way to do that is by opening bestseller lists and analyzing sales rankings of books at major retailers, such as Amazon. Go through the first 10 books of major lists, and analyze their book marketing keys. Figure out what they do to be successful.
Check out their webpages and observe how they present themselves and their books. Once you take a deep look at the most successful players and start learning from them, you realize more quickly the gap that stands between you and them.
Once you see the gap, you can start to close it by modelling and adapting what successful market players do.
"Success often speaks for itself. It is hard to hide."
Modelling successful authors and publishers
So modelling successful authors and publishers is one important aspect of Secret #8. True mastery cannot be achieved, though, if you are not clear on what you want to achieve in the first place.
Goal clarity will help you to look for exact role models, as well as envisioning the kind of books and marketing tactics that you need to create in order to reach those publishing goals.
I have recently created a Slideshare presentation on that topic, "How to reach your author goals by reverse engineering your dream book." I recommend you take a look at it.
You can find the presentation by following this link: https://www.slideshare.net/griesmayr/how-to-reach-your-author-goals-by-reverse-engineering-your-dream-book
In the following, I invite you to do an exercise with me, based on the presentation. It's an exercise that you can apply either to a book project you have planned or a book project you are marketing right now.
Follow The Money Exercise
Get clarity on your publisher goals (Full-time author? Amount of copies sold, visibility, or sales?)
Modeling and defining the needed outcome (Go through the 7 book marketing keys)
Create the action step to reach goals (Make a plan to get the results)
The exercise is all about finding the best way to reach your author goals, with the help of modeled players who have already achieved your goals.
Defining your goals is quite straightforward
what's more difficult is to model and define the needed outcome and the key elements as closely as possible
To make things more concrete, I am sharing with you a personal story and my concrete example for the "Follow the money" exercise.
The person that I am modeling is Russell Brunson, founder of Clickfunnels, who has sold at least 250,000 copies of his books Expert Secrets and DotCom Secrets (April, 2018) [1] through Amazon, his publisher, and his own book funnels.
I am a big fan of Russell, as he is a true marketing genius and keeps inspiring the digital marketing industry not only with his wisdom, but also with his concrete applications of sales funnels, which he and others have applied very successfully to books as well. So my choice is quite obvious and a well-suited example, as he has already reached the exact goals I want to reach with methods that align with me as well.
So here is my exercise based on an analysis of Russell's books and business.
Follow The Money Exercise
[Modeling Russell Brunson, Founder ClickFunnels]
#1 My goals:
more visibility and sales
book sales automation important
testing webpage based book sales funnels
promoting Scribando.com
adding credibility
having more time for consulting by sharing already formulated insights with clients
#2 Needed outcome: [primarily based on Russell as an example]
Need to have strong manuscript and 7 book marketing keys
Particular focus on the funnel on my page and Scribando.com
Funnel needs to have upsell products, so that I can invest in paid advertising
Podcast or video series on the 10 secrets
#3 Action steps:
Going the extra mile for creating a great book
Building funnel on my webpage and integrating upsells
Once the book is out, create YouTube- and Facebook video series on the 10 secrets
Get help for paid advertising campaign on FB and YT
I invite you to visit some of Russell's websites, such as "Expert Secrets,"[1] "Clickfunnels,"[2] or his marketing blog "Marketing Secrets,"[3] so that you
get a better understanding for my analysis. Examining and studying a process that brings you the results that you want to achieve online is priceless. The internet has made reverse-engineering so much easier. It opens up true shortcuts that will free your time for what truly matters most to you.
Here are some important notes for your personal "follow-the-money" process. These will help you to avoid common pitfalls. Make sure that you:
Do not get blinded by something that looks good or brings results indiscriminately; pick a role-model that has achieved what you want to achieve (be specific)
Analyze potential success elements with care (sometimes there are tiny things that make a huge difference)
Simplify whatever you can. It's difficult to start with the most advanced system. Break it down and start with something very simple, based on your role model
Understand the underlying principles, formulas, and mechanics behind processes in order to learn correctly
Now, it's your turn to do the exercise. Find at least one publishing role model who has achieved what you are striving for and who you want to learn from. Analyze what they are doing and create your own action steps to get the results you are looking for.
Applying Secret #8 will put your publishing business and author career on steroids, as you will be able to reach your goals much faster by following proven recipes and formulas.
Secret #8 Checkbox
Core Insights:
Follow the money and look for authors and publishers who have reached what you want to accomplish
Reverse-engineer their books and systems and get an understanding of why they are successful
Exercises
Do the "follow the money" exercise and reverse engineer one of your role models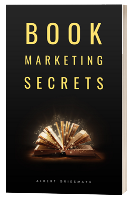 Book Marketing Secrets : The 10 fundamental secrets for selling more books and creating a successful self-publishing career
"This article is based on insights from the book "Book Marketing Secrets". Get your copy on Amazon and find the insights for selling more books and creating a successful author career."

Albert Griesmayr
Founder & CEO of the book publishing startup Scribando & Novelify.
Previously Albert was Head of Digital at Dorotheum and consults companies and authors in digital strategy, digital marketing and book promotion.