The main idea behind Tactic #4 is to use Amazon Alexa-enabled devices as a channel for promoting books and related services. Amazon Alexa is a colossal investment by the company. By November 2018, Amazon had more than 10,000 employees working on Alexa and related products.
As of January 2019, Amazon's devices team announced that they had sold over 100 million Alexa-enabled devices. It's one of the fastest-growing market phenomena, closely related to audiobooks because of its voice technology and to the purchase of other products on Amazon, such as books, due to its integration with the company's ecommerce business.
The Alexa Skill Book Promotion Tactic certainly launches you into a fresh field, but one that offers high rewards for publishers with existing audiences to tap—especially if you're willing to put a little energy into creating an amazing Alexa skill and marketing it effectively.
Examples of Success
Alexa Skills aren't limited to particular books. The examples above are just a glimpse of what's possible in fiction by bringing stories to Alexa in an engaging, interactive way.
Application
There are numerous practical applications when it comes to promoting your book on Alexa. Amazon Alexa makes it easy to create a skill for non-developers as well, by using Alexa Skill Blueprints (https://blueprints.amazon.com/). You can create quizzes, games, stories, and much more. Developers can even work with in-app purchases that allow customers to buy your ebook on Amazon Kindle through Alexa.
Another very promising, largely untapped field is the re-use of existing audiobooks (and podcasts) on Alexa. Opportunities are rapidly expanding! To get started, I suggest visiting Alexa Skill Blueprints and exploring the options.
Make sure you also read up on the latest developments and best practices. One example of low-hanging fruit is to simply take advantage of what Alexa can already do with Kindle books: read your book aloud.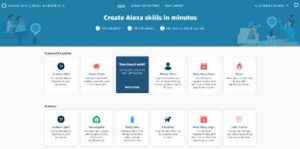 Thumbnail (January, 10, 2020): Amazon Alexa Skills Blueprints,
Promote books on Alexa
The most critical step in using Alexa Skills is being proactive about promotion. Unfortunately, if you publish a skill today without any marketing, the chances of someone finding it are slim. Like any other product on the internet, it needs to be promoted. If you're going to publish an Alexa skill to promote your book, make sure you already have an audience or marketing steps in place. If your skill becomes popular, the rewards can be high.
Resources
Book Sales Explosion : The 25 Best Tactics For Skyrocketing Your Book Sales Today
"This article is based on insights from the book "Book Sales Explosion". Get your copy on Amazon and find the insights for selling more books and creating a successful author career."

Albert Griesmayr
Founder & CEO of the book publishing startup Scribando & Novelify.
Previously Albert was Head of Digital at Dorotheum and consults companies and authors in digital strategy, digital marketing and book promotion.