Kickstarter is a crowdfunding platform with enormous potential for authors and publishers—but it's often overlooked. Use Kickstarter's publishing section to create amazing projects, pre-fund your book, and implement a smart pre-order strategy.
Kickstarter provides a great model of "lean publishing," or publishing that doesn't require huge capital or a lengthy, complicated process to get your book into the hands of readers. It also offers significant advantages over the traditional publishing model.
Kickstarter for books
For example, you can share your ideas with followers, build a fanbase early, plan a promotional campaign, and get feedback on the development of your book before you even write a single chapter. The examples in the section below became publishing sensations on Kickstarter, raising hundreds of thousands of dollars from tens of thousands of supporters.
Check out kickstarter.com and browse other book projects to see what's possible. The support you get while writing your masterpiece could be priceless.
Examples of Success
Example: Hello Ruby
Hello Ruby is a children's book that teaches the basics of programming in a fun and engaging way. As the screenshot above shows, author Linda Liukas raised far more than her stated funding goal from enthusiastic backers.
Thumbnail (January 24, 2020): Linda Liukas, Hello Ruby,
Example: Masters of Anatomy
Masters of Anatomy is a collaborative book by dozens of artists, designed to be a reference work for modern illustrators and comic book artists. As you can see from the funding bar (above), the idea was wildly popular.
Thumbnail (January 24, 2020): Masters of Anatomy, Master of Anatomy: The Ideal Male and Female,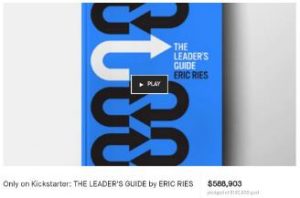 Example: The Leader's Guide
Entrepreneur and author Eric Ries built on his successful "Lean Startup" principles to launch a book project on Kickstarter. The pitch was well received by thousands of business leaders who had benefited from Ries's ideas.
Thumbnail (January 24, 2020): Eric Ries, The Leader's Guide,
Application
Publishing on Kickstarter can save you lots of time, money, and energy. Publish the lean way and find out early if your target audience is interested in your book (or not). They'll let you know through their funding support.
Similarly, use Kickstarter to test your marketing approach and identify what resonates with your prospective readers. Build an audience early so you can hit the ground running with your book release.
Resources
8 Lessons for Launching Your Book with Kickstarter: https://scribewriting.com/8-lessons-for-launching-your-book-with-a-kickstarter-and-raising-25000/
Creator Handbook: https://www.kickstarter.com/help/handbook
How does my project become a Project We Love?: https://help.kickstarter.com/hc/en-us/articles/115005135214-How-does-my-project-become-a-Project-We-Love-
Book Sales Explosion : The 25 Best Tactics For Skyrocketing Your Book Sales Today
"This article is based on insights from the book "Book Sales Explosion". Get your copy on Amazon and find the insights for selling more books and creating a successful author career."

Albert Griesmayr
Founder & CEO of the book publishing startup Scribando & Novelify.
Previously Albert was Head of Digital at Dorotheum and consults companies and authors in digital strategy, digital marketing and book promotion.