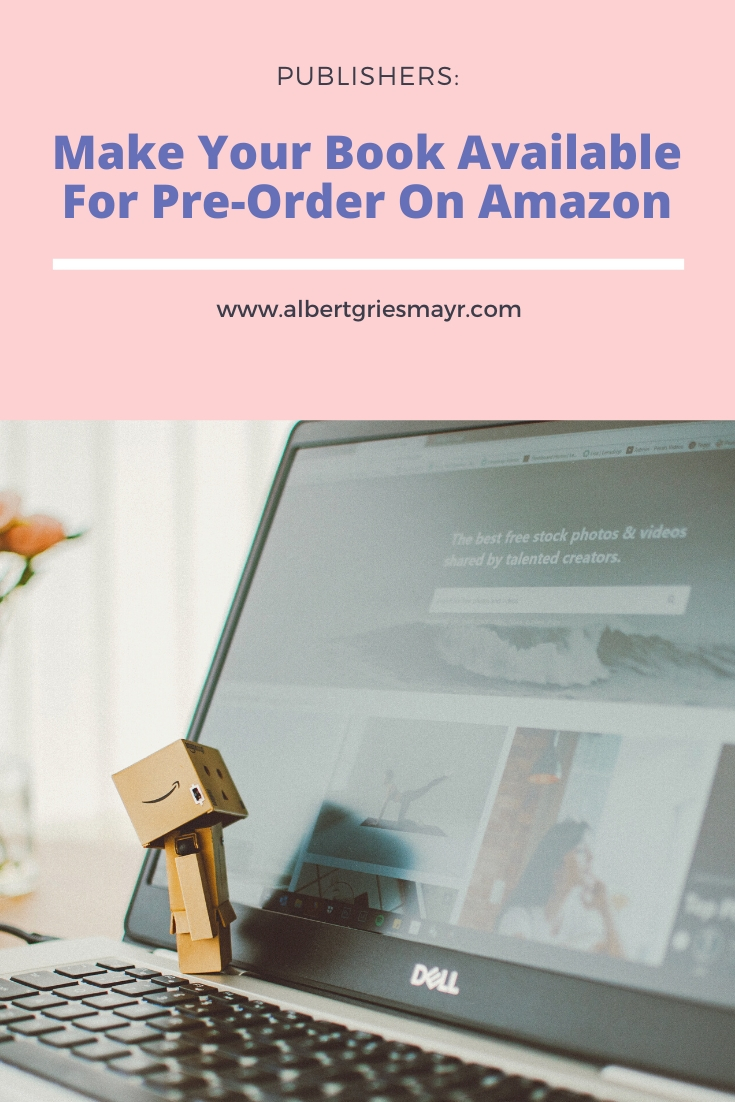 If you want your book to hit the ground running, you should make the most of the pre-launch phase. This is the time to generate buzz, get feedback, recruit beta readers, and secure potential reviews. You can even monetize the process by getting pre-orders through online retailers like Barnes & Noble or Amazon.
This tactic has proven increasingly effective over the last few years, and with new developments at the start of 2020, it's going to become even more valuable. The two big trends are (1) Amazon extending its pre-order phase up to one year and (2) BookBub offering submissions for featured new release promotion (which have less competition than the featured discounted book deals).
Amazon's new allowance means that you can not only "claim" a future release one year in advance but also rack up pre-orders far ahead of the launch. If used correctly, it can also act as pre-funding. A good approach is to offer special pre-order packages exclusively for readers who pre-order the book.
Examples of Success
Example: Why Not Me?
Mindy Kaling's second book, Why Not Me?, was launched at #1 on the New York Times bestseller list. The pre-publication phase included a gift-with-pre-order promotion consisting of her favorite licorice and a Why Not Me? pin to readers who pre-ordered the book. Thumbnail (February 10, 2020): Emerald City Glow.
Application
Make your book available for pre-order on your own sales page or through online retailers (like Amazon and Barnes & Noble) long before the release date.
Create an enticing pre-order package that will clearly reward readers who pre-order rather than waiting until the release date. You can do this by giving value right away—for example, you can send a bonus ebook, add readers to a special email list, or give them an early-bird version of the book.
Make sure to tap the ecosystem around pre-order tactics, such as using ARC services for securing reviews or submitting your title for a BookBub new release feature.
Resources
All about Pre-Orders: http://authornews.penguinrandomhouse.com/all-about-pre-orders/
The 13 Pre-Order Strategies That Increase Book Sales: https://www.amarketingexpert.com/the-13-pre-order-strategies-that-increase-book-sales/
How I Promoted a Preorder to Launch a Bestselling Book: https://insights.bookbub.com/promoted-preorder-launch-bestselling-book/
Book Sales Explosion : The 25 Best Tactics For Skyrocketing Your Book Sales Today
"This article is based on insights from the book "Book Sales Explosion". Get your copy on Amazon and find the insights for selling more books and creating a successful author career."

Albert Griesmayr
Founder & CEO of the book publishing startup Scribando & Novelify.
Previously Albert was Head of Digital at Dorotheum and consults companies and authors in digital strategy, digital marketing and book promotion.