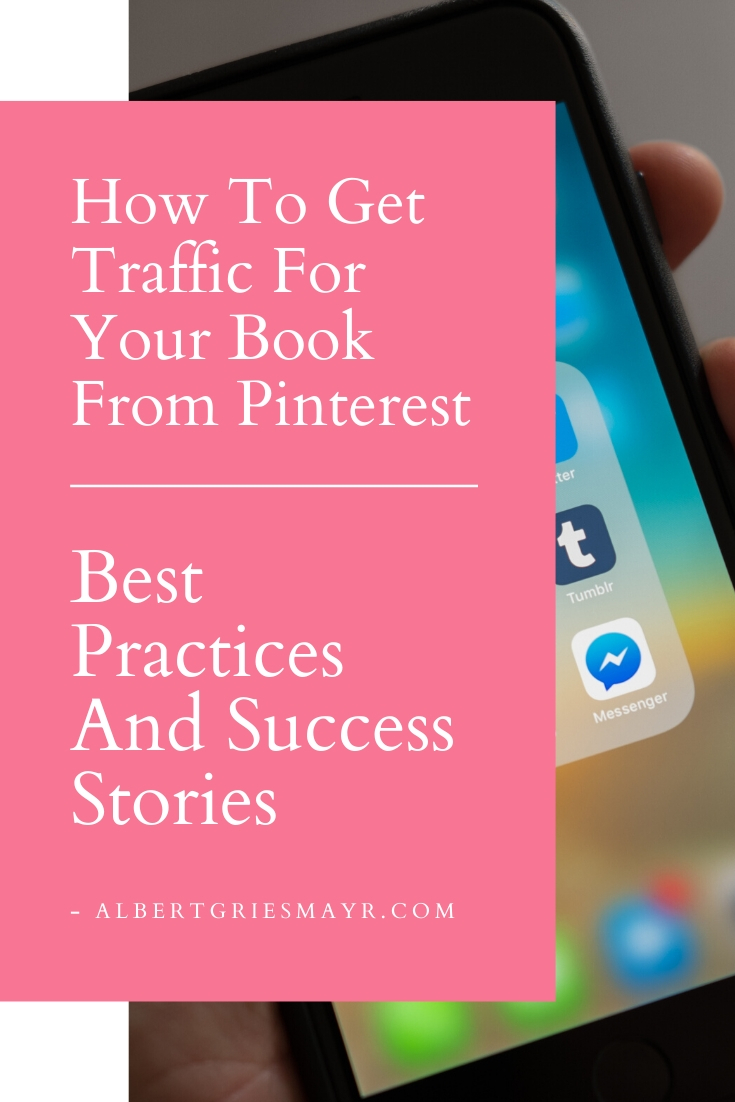 Pinterest boasts an astounding 250 million users a month. For marketers, an even more interesting statistic is that 90 percent of these users frequent the platform to make purchase decisions, and 55 percent of Pinners are specifically searching for products.
So not only is Pinterest a great channel for reaching your target audience, but it's also ripe for attracting buyers. Even better, Pinterest allows you to create a pin related to your book, which will drive traffic to your personal website or Amazon page.
But there's an even smarter way to market your books through Pinterest. When you use Pinterest in combination with a third-party service called Tailwind Tribes, you can team up with other authors and content creators in your niche who have a comparable number of followers to cross-promote each other's content. I'll share more in the "Application" section. Tactic 14 is about turbocharging your book selling through the synergy of these two powerful tools.
Examples of Success
Example: Brit Poe
Adult Fantasy author Brit Poe's channel is getting 170K viewers per month by leveraging Pinterest and Tailwind Tribes.
Thumbnail (February 5, 2020): https://www.pinterest.co.uk/britpoeandco/
Application
First, set up your Pinterest business account (not a personal account) on business.pinterest.com. The business account gives you access to precious analytics on repins, clicks, and views. Fill out your profile and include your book funnel.
Next, showcase your personality and build your author identity by creating engaging boards. Create lots of boards on the subtopics within your niche.
For instance, you could create boards for all the books you've written and are going to write, for your favorite authors, and for the top 10 books you've read this year. Pin 10–20 images per board. Use relevant keywords for your niche and brand, and make sure the pins are relevant too.
Images should be high-quality, descriptions should be engaging, and your pinning should be consistent and regular. However, keep in mind that you don't want to overwhelm your audience with too many pins.
Create pins for your own content and add a watermark. Create a Pinterest-sized image (W: 1,000 px; H: 1,500 px) for each post that you want to promote to your site from Pinterest.
Canva.com and other free programs offer an easy way to create images. When your pins are ready, upload them and target the relevant post on your website. Upload all of your pins to a separate board.
If you're thinking of using Tailwind Tribes, first sign up for the free trial version. This gives you access to 5 Tribes and 30 shares per month, so you can learn the ropes and see if you want to invest in a paid subscription.
A paid membership costs $7.50 per month and gives you Tribes PowerUps, boosting your exposure.
To get started on Tailwind, fill out your profile and link to your Pinterest account. To become a member of a Tribe, click the "Tribes" feature and identify your Tribe (i.e., your niche). Use "Find a Tribe" to search for more Tribes; select one that looks like a good fit and request to join.
Once accepted, you'll be able to nominate which of the Tribe's content you want to share. It's reciprocal: the more you share, the more they'll share of yours. To use Tailwind effectively, aim to post 30–50 pins per day.
That sounds like a lot, but Tailwind makes it easy by giving you the option to post your pins days, weeks, or even months in advance.
Finally, to get the most out of Tailwind, you'll want to track and measure. Measure the number of reins, reshapes, and pieces of content you've shared.
Double down on the high-performing Tribes, and don't be afraid to leave (or stop contributing to) Tribes that aren't performing. Ideally, you'll want to post 50% your own content and 50% others'.
Resources
Book Sales Explosion : The 25 Best Tactics For Skyrocketing Your Book Sales Today
"This article is based on insights from the book "Book Sales Explosion". Get your copy on Amazon and find the insights for selling more books and creating a successful author career."

Albert Griesmayr
Founder & CEO of the book publishing startup Scribando & Novelify.
Previously Albert was Head of Digital at Dorotheum and consults companies and authors in digital strategy, digital marketing and book promotion.